Advising individuals and businesses
on protection and accumulation
Our financial professionals provide individuals, families, and businesses with insurance, financial planning, investment management, and retirement income strategies that align with each client's unique needs, goals and vision. Our recommendations are actionable, backed by a broad range of product offerings to suit various life stages and situations.

Insurance Products & Services
Through our alignment with the insurance companies of National Life Group, we offer insurance products that help to provide peace of mind that the people and things you hold dear are protected and that your financial future is secure. The goal of National Life Insurance Company — since its chartering in Montpelier, VT in 1848 — has been to work together to create a better future for each and every customer through innovative financial solutions, and then to deliver on those commitments 10, 20 or 50 years down the road.
Whatever your life stage or coverage needs, we help you select the policy that's right for you, whether for fixed short-term coverage or flexible lifetime coverage with the potential to build policy cash value: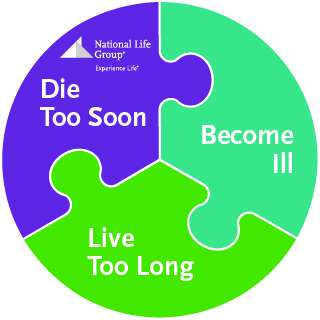 Indexed Universal Life Insurance
Variable Universal Life Insurance
Living Benefits1
Today's life insurance is not just about death benefits – it's about life insurance you can use during your lifetime. Living Benefits are additional benefits associated with our life insurance and annuity solutions and provided by optional riders. Our living benefits cover every piece of the puzzle. Whether you're worried about dying too soon, becoming ill, or living too long, we've got you covered.
Financial Planning
Financial planning is a process that creates a roadmap for your financial future, enabling you to prepare ahead for life's twists and turns and to make the most of your assets at every life stage. This process is built around your goals and core values. It defines how asset accumulation can help you and others in your life as well. To help you build a solid financial plan and investment portfolio, we partner with you to gain a detailed understanding of your personal, family and business goals.

Investment Management and Advice
The Registered Representatives and Investment Adviser Representatives of Equity Services, Inc. recognize the commitment and responsibility we undertake when we provide investment advice. That's why we listen closely to your needs and objectives before recommending a course of action.
Worldwide capital markets fluctuation has reiterated the need for diligent risk management and a disciplined approach to managing investments. From providing thorough research to ongoing monitoring, our disciplined process helps keep us focused, rational and unemotional. Our core maxim is that "performance without process is just luck". Here's how our approach sets us apart:
We take a forward-looking and contrarian approach to the stock market and economic cycles. We respond to what the markets are actually doing while considering where they may be heading.




We break from the traditional "buy, hold and hope" approach – the strategic portfolios and diversification strategy custom-designed by Registered Representatives of Equity Services, Inc. evolve and adapt to information we continuously gather from global market indicators and our research partners.




We keep fees and process transparent and easy to understand while providing a selection of sophisticated "all-weather" portfolios that are actively managed to balance risk and return through volatile bull and bear markets.
​Past performance is no guarentee of future results.
Securities and Investment advisory services are offered solely through Registered Representatives and Investment Adviser Representatives of Equity Services, Inc., Member FINRA/SIPC.
National Life Group® is a trade name of National Life Insurance Company (NLIC), Montpelier, VT, Life Insurance Company of the Southwest chartered in 1955, Addison, TX and their affiliates. Each company of National Life Group is solely responsible for its own financial condition and contractual obligations. Life Insurance Company of the Southwest is not an authorized insurer in New York and does not conduct insurance business in New York.
1Living Benefits may be provided by optional Accelerated Benefits Riders. Riders are supplemental benefits that can be added to a life insurance policy and are not suitable unless you also have a need for life insurance. Riders are optional, may require additional premium and may not be available in all states or on all products. This is not a solicitation of any specific insurance policy. Payment of Accelerated Benefits will reduce the Cash Value and Death Benefit otherwise payable under the policy. Receipt of Accelerated Benefits may be a taxable event and may affect your eligibility for public assistance programs. Please consult your personal tax advisor to determine the tax status of any benefits paid under this rider and with social service agencies concerning how receipt of such a payment will affect you.